The theme this year is
Firefly
. Our tale begins as
Captain Reynolds
, his loyal
first mate
, and
Layne
try to appease a crowd of bar patrons who are mighty peeved at their refusal to join in the festivities celebrating the birthday of
Misha I
, emperor of the Blogger Alliance.
The
ship's mechanic
knows better than to pick fights with Loyal Citizens. She stays at her post aboard
Serenity
- and hopes that Simon remembers to bring the fresh strawberries.
Here comes
Simon
now. He's looking cheerful.
Serenity
takes off for the border world Persephone, in hopes of finding a cargo job through Badger, their old occasional business associate. Badger is unavailable, but his brother
Possum
approaches Captain Reynolds with an offer to smuggle black market beagles to the planet
Sullivan
.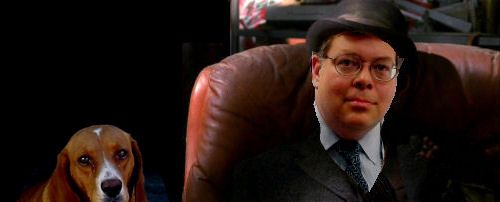 This business has its risks. After taking the cargo,
Serenity
is shortly intercepted by the Alliance cruiser
Dallas
. Reynolds hides the beagles in empty crates left over from their previous run, a shipment of blenders, and docks with the
Dallas
. The
captain
is satisfied with the inspection, especially after receiving some complimentary football tickets and Inara's phone number.
Ah, but someone else wants to snoop around -
one of those mysterious blue-gloved agents
relentlessly in pursuit of River Tam.
Fortunately, River is nowhere aboard - she's sharing funny stories with
some guy
at a
Star Trek
convention on Beaumonde.
Labels: Blog traditions, Holidays